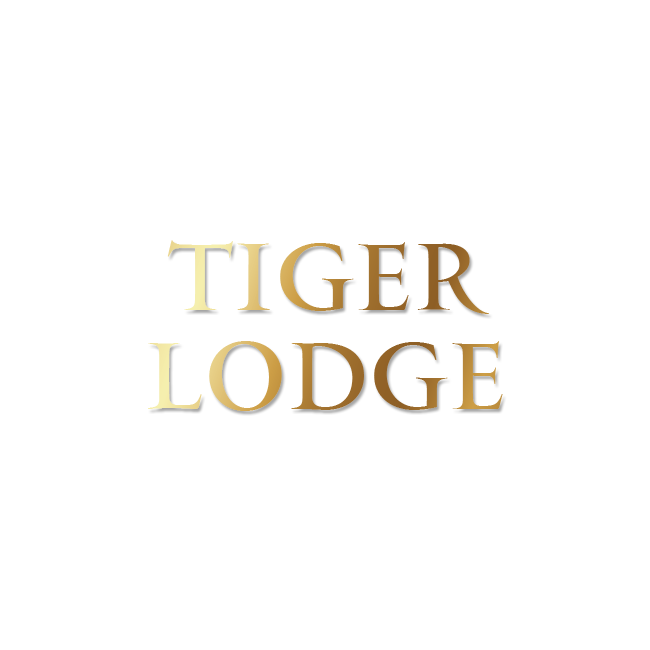 SLEEP A WHISKER AWAY FROM

SUMATRAN

TIGERS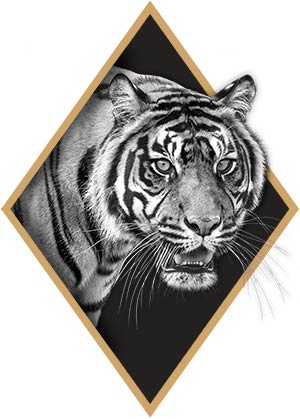 Enjoy an overnight experience, unlike anywhere else in the UK 
Four brand-new, luxurious lodges offer an amazing overnight stay amongst our incredible Sumatran tigers. Two types of lodges will be available: with a hot tub and without a hot tub.
Lodges with a hot tub are detached, single-storey spaces, sleeping up to five people. These lodges feature an open-plan living and dining area and two bedrooms, all with floor-to-ceiling windows looking into the Sumatran tiger habitat. Outside you'll find a covered garden area, with a sunken hot tub right next to a large, glass window offering a chance to get up close to this endangered species.
Lodges without a hot tub are double-storey and can sleep up to seven people. Downstairs is a master bedroom and in the living area is an authentically themed day bed, which can be used as a space to relax and take in the views. Stairs lead to an upstairs bedroom, with three single beds and an additional bathroom.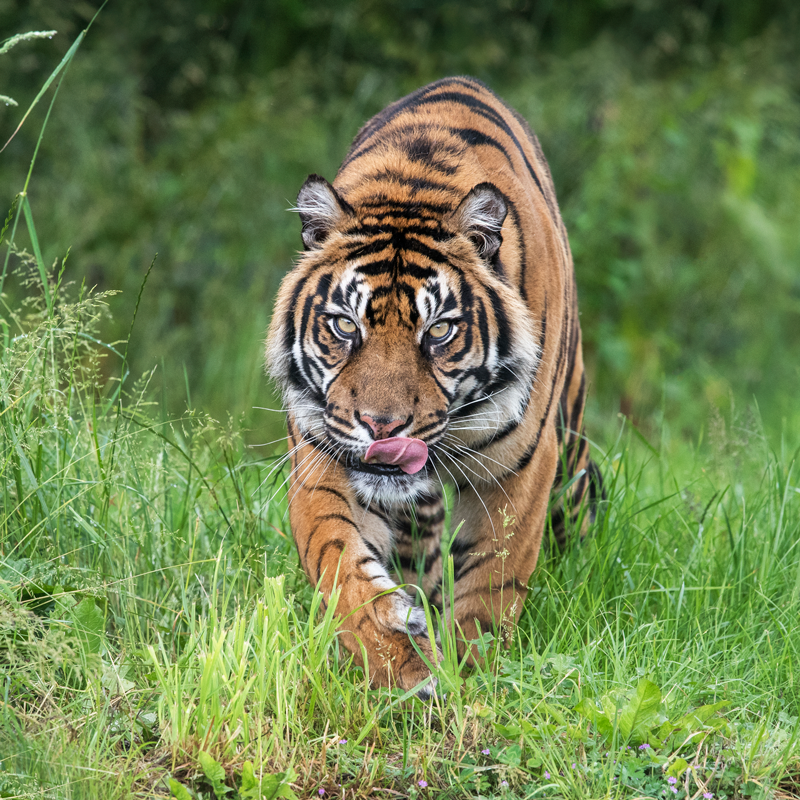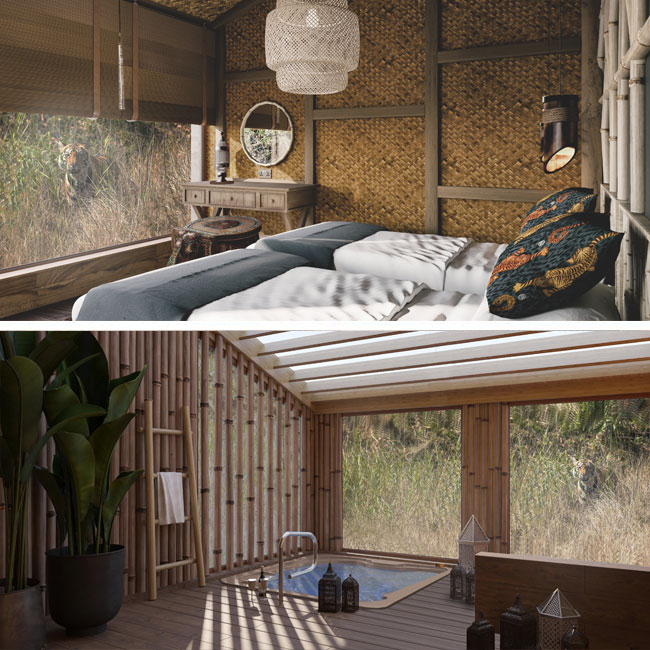 Watch the stunning Sumatran tigers right outside your window.
These incredible felines are the smallest variety of tiger. Their stripes are as unique as a human's fingerprints, with each individual having its own stripe pattern. Unlike most of their cousins, tigers love swimming and will frequently cool off by having a dip in nearby water!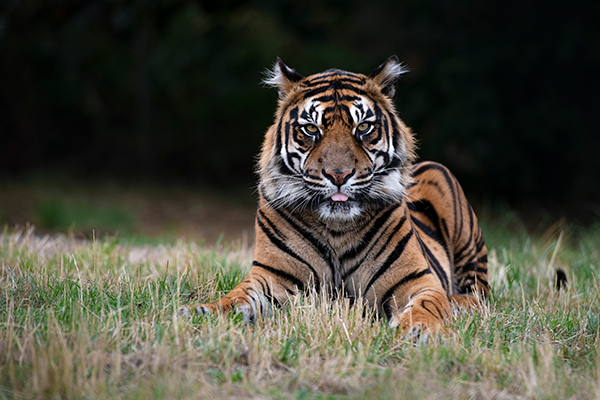 • Exclusive use of a Tiger Lodge for up to 5 or 7 people (depending on Lodge chosen)
• Panoramic views of Sumatran tigers in their new habitat
• Sunken hot tub overlooking the tiger habitat (in 'Tiger Lodge with Hot Tub' only – please check this when booking)
• Two-day Admission Ticket to West Midland Safari Park and all attractions
• Two-day Ride Wristbands to use in the Adventure Theme Park*
• Breakfast and dinner
• Covered outside area (in 'Tiger Lodge with Hot Tub' only)
• Bedding and towels
• Hairdryer
• Widescreen TV
• Free WiFi
• Hot drink making facilities
• Minibar Fridge (charges apply)
• Microwave
• Robes
• Noble Isle Toiletries
• 24-hour concierge
• Free parking
*Summer season only.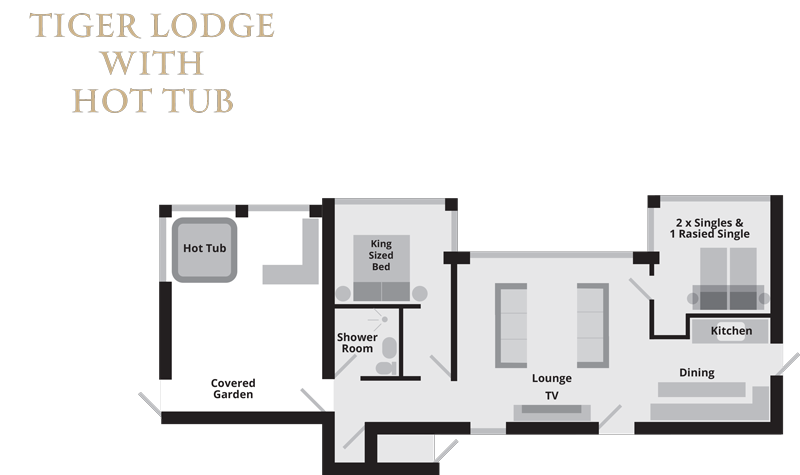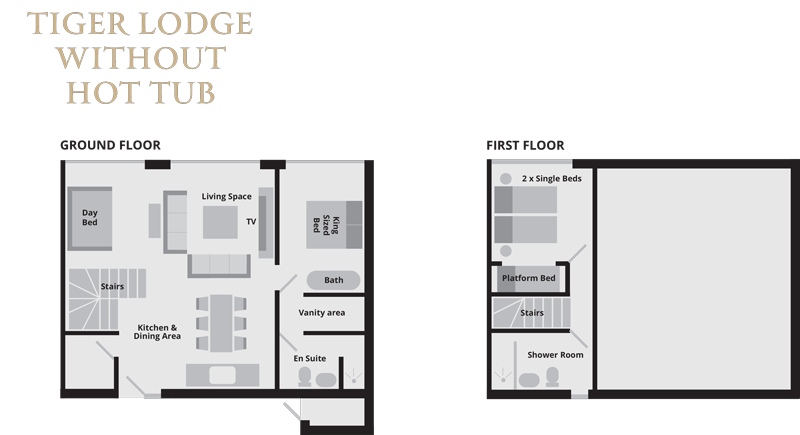 From £790 per night, based on 2 guests.
Additional guests:
£175 per adult per night
£125 per child (3-15yrs) per night
£20 per under 3 per night

REGISTER FOR THE LATEST UPDATES AND BOOKING EXCLUSIVES
Be the first to know all the latest details & availability!